while I have a short breack in exhibition, I am writing this post for all my followers
It is the third day and the emotional athmosphere is very warm and exiting. So much beauty arround, and so much of exellent craftmenship and original designs. My dolls are getting a lot of attention and they have brought many smiles to peoples faces
As all my dolls, these three Sirens have a story behind them too:
They say that Sirens have magic voices and are attracting sailors with their songs and a shine of their jewels to the rocky shores. The ships are breaking against the rocks and the sailors find their death on the bottom of the sea.
I say, those sailors are just too greedy. It's not enough for them to listen to those beautiful voices and admire their beauty from a distance. They are rushing to the shore expecting to catch themselves a rich bride to trap her and to hide her from the rest of the world… silly men – at the end they are getting what they deserve.
The upper part of the dolls is made from bone China (porcelain), and the lower part is sculpted formacie dry clay on wire armature. The costumes are decorated with hand embroidery, glass and semiprecious stone beads. The jewelery is from gold, silver, diamonds and precious stones. Their crowns can be wron as rings and necklaces are also fitting human.
  The February has came sooner than I expected, and all my time now goes to the preparations  for the exhibition in Munich. (http://www.inhorgenta.com/) 
  Margita (www.margisa.eu) has made a magnificent  set of jewelry for one of my dolls, and is still working on two other sets. It is very interesting and exciting to see how other artists feels the connection to my work, and how our visions are synchronizing and growing into a unique set of three dolls dressed up in silver, gold and precious stones.
  I will add more photos and the whole story later, but meanwhile, with a permission from Margita, I am very happy to share with you the first one from the three:  "The White Siren".
We all are living in a society where we must obey certain rules in order to survive. We all are limited by someone or something. There will always be people who will try to trap us in different cages. Cages of rules, of traditions, of mentality. Cages that are telling us how we should be and behave according to other people's expectations.
The greatest gift you can give to a person, is to give him/her the freedom. The freedom to be as they are, the freedom of choice, the freedom from manipulations, the freedom to take their own decisions.
So if someone is truly dear for you – open the cage, and let them free!
Each Bird Needs Freedom 
is my last doll for 2013. The doll was sculpted from air dry clay, dressed up in flax and cotton outfit, which was embroidered by hand, decorated with glass beads and naturally shed feathers. It is around 50cm from the bottom of the wooden stand to the top tip of the feathers on her head.
Hello Dear Everyone!
I am very happy to welcome you in my new personal webpage!
It's been a long time that I was dreaming of having my blog, photo gallery and a store to sell my works in one place, and finally my dream has come truth!
I hope that you will enjoy your staying.
Here you will find the most recent news about my upcoming projects, the events I am participating in and pieces I have for sale. You can also subscribe for the newsletter, to be sure you do not miss any news from my workshop.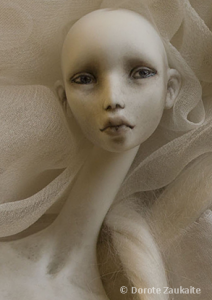 And the Big News of the year:
It's been several months already, since I have started working with porcelain. This new material is very different from what I have known till now, and learning to handle it was one of the most interesting and exciting experience in my life. My first mixed media dolls with porcelain parts are going to be very special, as they are a part of a collaborative project with a fantastic jewelry artist Margisa (http://margisa.eu/) from Poland. The project will be finished in february, and for now I am spending days and nights in my studio.
have a beautiful day everyone!
Dorote